Lake Orta is located west of Lake Maggiore in the Piedmont region of northern Italy. It is believed to be the remnant of a much larger lake filled by waters from glaciers during the end of the last ice age. As the glaciers retreated, the water from them was diverted into Lake Maggiore.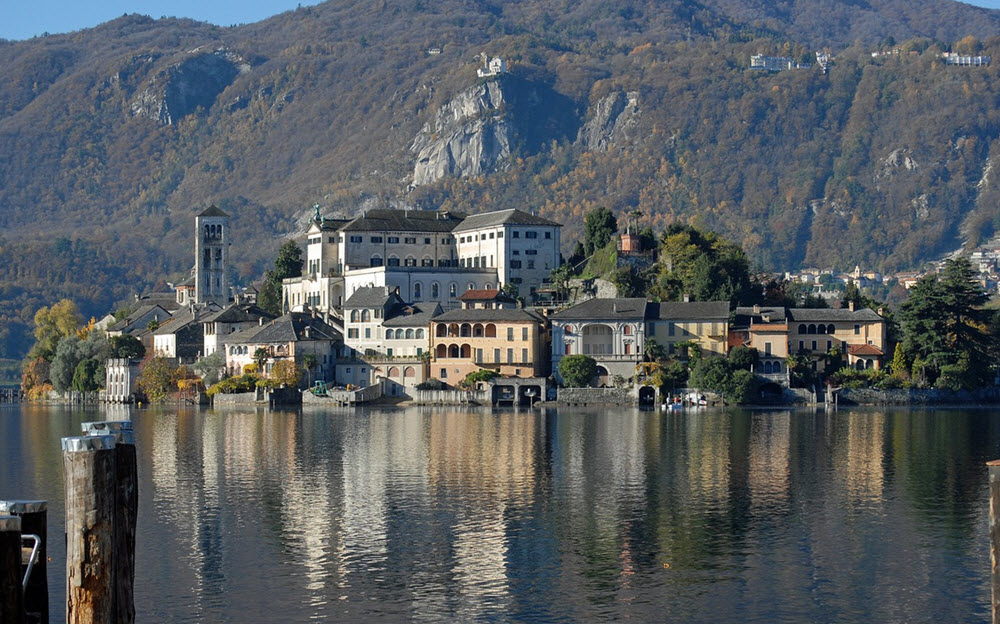 Names
English name: Lake Orta
Italian name: Lago d'Orta
Old Italian name: Lago di San Giulio
The name Lago di San Giulio was used until the 16th century. San Giulio (known in English as Saint Julius of Novara) is the patron saint of the area. The island in the lake is still called Isola San Giulio (San Guilio Island).
Short facts about Lake Orta
Location
Piedmont, Italy
Coordinates
45°49′02″N 8°24′24″E
Primary inflows
Scarpia

Pellino

Plesna

Qualba

Fiumetta

Pescone

Several underground springs

Primary outflow
Nigoglia
Surface area
18.2 square kilometres
Length
13.4 kilometres
Width
2.5 km
Max depth
143 metres
Average depth
Approximately 72 metres
Surface elevation
290 metres
Isola San Giulio
Isola San Giulio is an island in Lake Orta, just west of the lakeshore village Orta San Giulio. The little island, which is no more than 275 metres by 140 metres in size, is famous for its basilica (Basilica di San Giulio), its Benedictine monastery and several picturesque buildings, including an old seminary from the 1840s.
Names
Italian name: Isola San Giulio
Alternative Italian name: Isola di San Giulio
English name: San Giulio Island
History
In the 4th century, the evangelizer San Giulio (Saint Julius) died on the island.
A small chapel (oratorium) was built on the island in the 5th century, probably to commemorate San Giulio.
This small chapel was eventually replaced by a larger church. We don't know exactly when this church was built, but it existed in the 6th century and Filacrio, the Bishop of Novara, requested to be buried there. This is also the epoch when an octagonal building was erected in the middle of the island. This building was likely used as a baptistery.
In 962, Guglielmo da Volpiano was born in a fortified castle on the island. He grew up to become an important monastery reformer, and after his death he was declared a saint. In English, he is known as Saint William of Dijon.
In the 1100s, a new Romanesque basilica was built on the island.
Orta San Giulio
Orta San Giulio is a town and comune (municipality) on the shore of Lake Orta. The town is situated on a promontory that juts out from the lake's eastern bank, not far from the island Isola San Giulio. (The island is included in the municipality.)
The UNESCO World Heritage site Sacro Monte is located near San Goulio.