Tremezzo, a beguiling town situated on the western shore of Lake Como in Italy's Lombardy region, is a veritable treasure trove of beauty, history, and culture. With its enchanting lakefront, grand villas, and verdant mountains, Tremezzo exudes an unmistakable charm that has captivated travellers for centuries.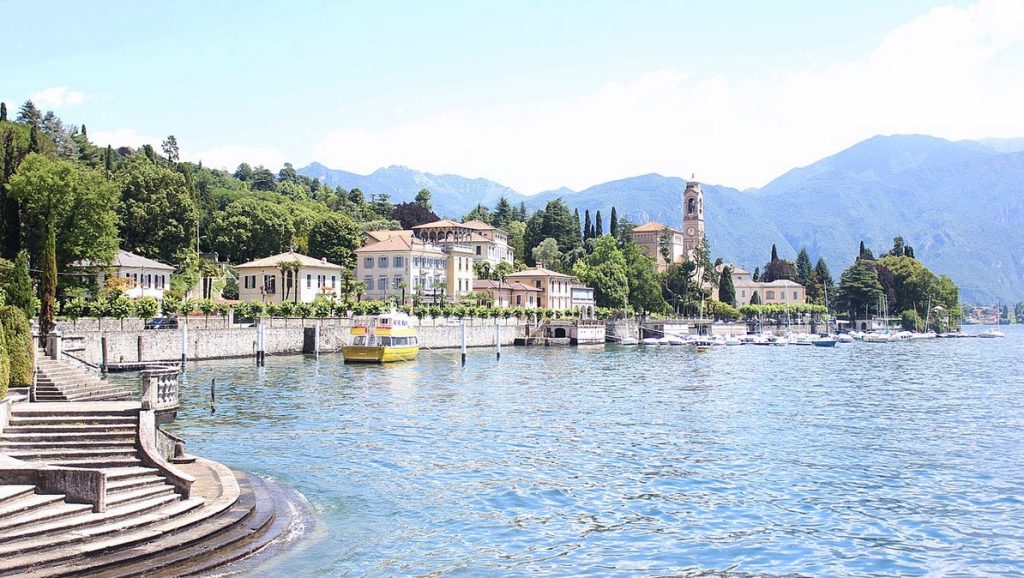 Natural Grandeur
The Allure of Lake Como
As a lakeside town, Tremezzo's allure is inextricably linked to the captivating Lake Como. The placid waters of the lake, set against the towering mountains, create an idyllic setting that has made Tremezzo a sought-after destination for relaxation and reflection.
Lush Landscapes and Gardens
Tremezzo is adorned with lush landscapes and exquisite gardens. A stroll through the town reveals manicured gardens with an array of vibrant flowers, exotic plants, and ancient trees, creating an aura of serenity and natural splendour.
Architectural and Historical Gems
Villa Carlotta
Among Tremezzo's architectural jewels, Villa Carlotta stands out as a magnificent example of 17th-century neoclassical design. With its sumptuous interiors, featuring artistic masterpieces and luxurious furnishings, Villa Carlotta is a testament to opulence. Equally captivating are the villa's botanical gardens, spanning over 8 hectares and replete with diverse flora.
Church of San Lorenzo
Another historical landmark is the Church of San Lorenzo. Dating back to the 12th century, this Romanesque church is adorned with intricate frescoes and ornate carvings. Its spiritual ambiance and architectural grandeur make it a must-visit destination for history aficionados.
Meier Park
A contemporary addition to Tremezzo's architectural landscape is Meier Park. Designed by the renowned architect Richard Meier, this waterfront park is a beautiful amalgamation of modern design and natural beauty. It serves as a cultural and recreational hub for both locals and tourists.
Culinary Delights
Local Cuisine
No visit to Tremezzo would be complete without indulging in the exquisite local cuisine. Rooted in traditional Italian gastronomy, Tremezzo's culinary offerings are a delightful blend of flavors and textures. From lake fish dishes to risottos and pastas, the food in Tremezzo is a gastronomic journey in itself.
Wine Culture
Tremezzo's rich wine culture is another aspect of its culinary heritage. The region is renowned for its fine wines, and wine-tasting tours are a popular activity among visitors. The wines, often paired with local cheeses and produce, add to the town's culinary allure.
Outdoor Activities and Leisure
Water Sports and Boating
Being located on the shores of Lake Como, Tremezzo is a haven for water sports enthusiasts. From sailing to kayaking, the lake offers ample opportunities for aquatic adventures.
Hiking and Exploration
The surrounding mountains and trails make Tremezzo a paradise for hikers and explorers. The well-marked trails through forests, meadows, and along the lake provide unparalleled views and a chance to connect with nature.
Artistic and Cultural Sojourns
Tremezzo has a rich cultural heritage, reflected through its festivals, concerts, and rt exhibitions. The town's artistic heritage is a blend of traditional and contemporary influences, and visiting artists often find inspiration in its scenic landscapes.
Festivals and Events
Throughout the year, Tremezzo hosts an array of festivals and events that celebrate its cultural heritage. Traditional festivals such as the Feast of San Lorenzo are marked by processions, music, and feasting. The town also hosts classical concerts, jazz performances, and art exhibitions, reflecting its vibrant arts scene.
Museums and Galleries
Tremezzo is home to several museums and galleries that showcase the town's rich history and artistic heritage. Villa Carlotta, for instance, houses an art museum with a collection of sculptures, paintings, and antique furnishings. These cultural hubs offer insights into the evolution of Tremezzo and the larger Lake Como region.
Hospitality
Accommodations and Welcoming Atmosphere
Tremezzo's hospitality sector is characterized by a range of accommodations, from luxury hotels to quaint bed and breakfasts. What stands out is the warm and welcoming atmosphere that the locals extend to visitors. The town's ethos of hospitality ensures that guests experience the very best of Tremezzo's culture and lifestyle.
World-class Amenities
In addition to the innate warmth of its people, Tremezzo boasts world-class amenities. From gourmet restaurants and cafés to spa services and recreational facilities, the town is well-equipped to cater to the discerning traveler. In a nutshell, Tremezzo is a destination where natural beauty, historical grandeur, cultural richness, and warm hospitality converge. With its picturesque lakefront, architectural masterpieces like Villa Carlotta, delectable cuisine, and vibrant cultural scene, Tremezzo is a microcosm of the quintessential Italian experience. For those seeking a destination that offers a blend of relaxation, adventure, culture, and history, Tremezzo is an unparalleled choice. Its timeless charm and elegance make it a destination that leaves an indelible imprint on the hearts of those who visit.