Lake Idro is a prealpine lake shared by the Province of Brescia and the Autonomous Province of Trento (Trentino) in northern Italy. Most of the lake is located within Brescia in the Lombardy region. At 368 metres above sea level, Lake Idro is the highest of all the prealpine lakes in Lombard. It's nestled among forested mountains.
The primary inflow to Lake Idro is the River Chiese, which is also the only outflow.
The lake is plagued by several environmental problems, including a lack of adequate sewage systems in the surrounding comunes. Also, the lake loses a lot of water to irrigation systems used by farmers.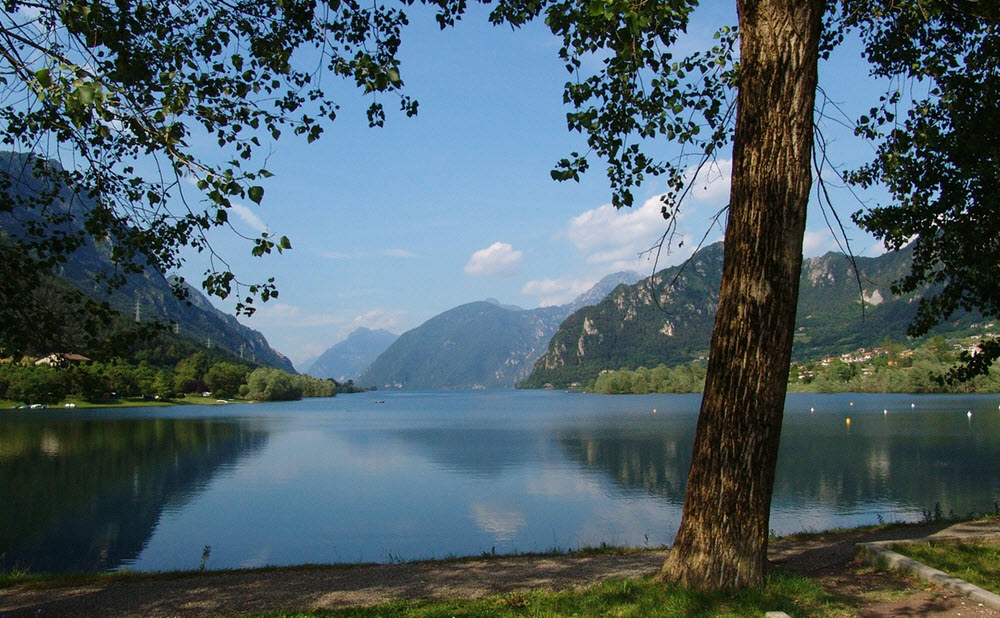 Names
English name: Lake Idro
Italian name: Lago d'Idro
Alternative Italian name: Eridio
Latin name: Eridius lecus
Lombard name: Lac d'Ider
German name: Idrosee
Comunes
There are four comunes (municipalities) on the shore of the lake:
Idro (which has given name to the lake)
Anfo
Bangolino
Bondone
Examples of settlements around the lake:
Anfo
Bagolino
Bondone
Baitoni
Belprato
Crone
Idro
Ponte Caffaro
Short facts about Lake Idro
Location
Province of Brescia, ItalyAutonomous Province of Trento (Trentino), Italy
Coordinates
45°46′48″N 10°30′36″E
Primary inflows
ChieseCaffaro

Red di Anfo

Primary outflow
Chiese
Length
11 kilometres
Width
1.9 kilometres
Surface area
11.4 square kilometres
Shore length
24 kilometres
Max depth
122 metres
Surface elevation
368 metres